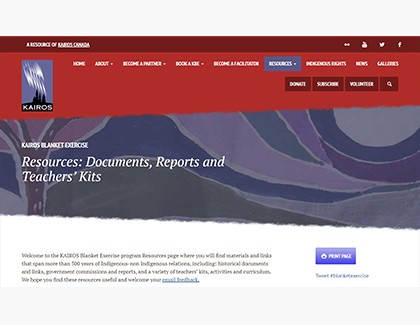 As someone who does a lot of work with students (of all ages) to teach them about residential schools I am always looking for hands on learning ideas relating to Indigenous history.
The Blanket Exercise Workshop developed KAIROS is a "teaching tool to share the historic and contemporary relationship between Indigenous and non-Indigenous peoples in Canada."
The Exercise teaches Indigenous history and invites participants to take on the roles of Indigenous people in Canada through an interactive learning session. Standing on blankets that represent the land, they walk through pre-contact, treaty-making, colonization and resistance. Participants are directed by facilitators representing a narrator and the European colonizers.
The Blanket Exercise website includes resource and edu-kit materials for both adults and children. It also includes guidelines for educators wishing to facilitate their own workshop. A great resource for those looking to introduce a hands on activity to teach about Indigenous history in Canada.