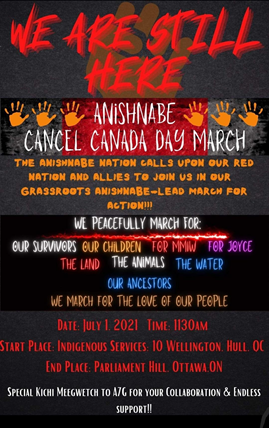 We also encourage others in the Ottawa-Gatineau area to take part in the Anishinabe-Led Cancel Canada March at 11:30AM on July 1st.
As guests on unceded and unsurrendered Algonquin territory we will be following Anishnabe leadership in regards to #CancelCanadaDay.
"The Anishnabe nations calls upon our red nation and allies to join us in our grassroots Anishnabe-led March for Action!"
Everyone is welcome. Rain or shine. Dress-code will be Orange, anti-colonial merch, your beautiful Indigenous selves.
WHEN: July 1st, 11:30AM
START: Indigenous Services, 10 Wellington, QC
END: @ Parliament Hill
BRING: drums, banners, noisemakers. Prepare for walking and the weather.
Please adhere to COVID-19 precautions.
"We will not celebrate the ongoing genocide within Canada against Indigenous people. Instead we will gather to honour all of the lives lost to the Canadian state, including the many lives lost to residential schools. We will use our voices to support MMIWG2S, and to end land extraction and devastation, child welfare, birth alerts, forced sterilization, Police/RCMP brutality and all of the injustices that the settler-state has normalized on these lands."
Message by Lisa Howell
Part-time Professor & PhD Candidate, UOttawa Faculty of Education
Teacher, Online Learning Academy, Western Quebec School Board
https://www.lisahowell.ca/