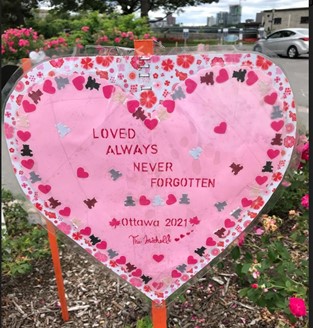 How Reimagine Canada (Day) Began
Shortly after the remains of 215 Children were found at the former Residential School in Kamloops, BC, a group of us came together in grief and in action. We thought about what we might do as a response to the ongoing trauma, injustices, and colonial disruption of First Nations, Inuit, and Métis peoples in Canada. On June 24, Cowessess First Nation announced that they had found 751 unmarked gravesites. Chief Cadmus Delorme said,
"We all must put down our ignorance and accidental racism, of not addressing the truth,
that this country had with Indigenous people. We are not asking for pity, but we are asking for understanding."
"We acknowledge, appreciate, and honour the cultural guidance and support from
IRS Survivor and member of Children of Shingwauk Alumni Association, Irene Barbeau and Algonquin Spiritual Advisor Albert Dumont."
Why an Un/Learning Tour?
Many of us are educators and have worked in Indigenous education for years. We are inspired by the words of Murray Sinclair, who was the Chairperson of the Truth and Reconciliation Commission of Canada. He once said:
"Education is what got us into this, and education is what will get us out."
The tour takes participants on a journey of learning accurate narratives and unlearning ones you may have been taught throughout your life. We know that the lessons taught in Canadian schools have perpetuated myths and created divisions between First Nations, Inuit, and Metis peoples and non-Indigenous people living in Canada. This has created a colonial culture that we must now unlearn. Importantly, we must then take action, by standing with, and listening to First Nations, Inuit, and Métis Peoples.
On this tour, participants will learn about the beautiful river that the Anishinaabe people have travelled since time immemorial. You will learn about people who are part of change-making now and in the past. You will learn about actions Indigenous and non-Indigenous peoples are undertaking together to reimagine Canada. Participants will learn about how we are implicated in the past, the present, and the future by living here and calling this place home. You will be asked, "What does it mean to be a good visitor here, on Indigenous lands, and what must we do to build trust?"
From Un/learning to Responsibility
Once we know, we can't unknow. This is why each stop of our tour consists of 4 invitations, or steps: to learn, to honour, to act, and to keep learning. In the learning component, participants are invited to listen to stories about places and people that might be different from the ones you know. Next, they are invited to honour the stories that they have heard, and the lessons learned by responding in creative and respectful ways. Then, participants are urged to take social justice actions after you have learned and honoured. We pose the question, "What can you do to be part of a Canada where First Nations, Inuit, and Métis peoples are treated with respect, dignity, and recognized as sovereign Nations with inherent rights?" Finally, each stop features a carefully curated selection of further resources so that participants can keep learning and continue to take action.
Covid-19 Safety
The tour is designed to be Covid-19 friendly. It is self-guided, and self-paced. Participants can visit the 5 stops using the Reimaging Canada (Day) google map, or they can do the tour completely at home, using the Reimagine Canada (Day) website. All Ontario Covid-19 safety protocols were followed during the creation of this event, including masking, physical distancing, and sanitizing and we ask that all participants follow suit to keep themselves and others safe and well.
Our Team and Partners
We are a group of community members who mostly live and work on the unceded, unsurrendered lands of the Algonquin peoples. We are former/current educators , activists, authors, academics, grand/parents and students working in various walks of life. Our partner organizations, whom we thank, are: The Royal Canadian Geographical Society, The First Nations Child and Family Caring Society, Justice for Indigenous Women, The Legacy of Hope Foundation, Project of Heart, and the University of Ottawa, Faculty of Education.
Anishnabe Cancel Canada Day March
We also encourage others in the Ottawa-Gatineau area to take part in the Anishinabe-Led Cancel Canada March at 11:30AM on July 1st. They have called us all to action.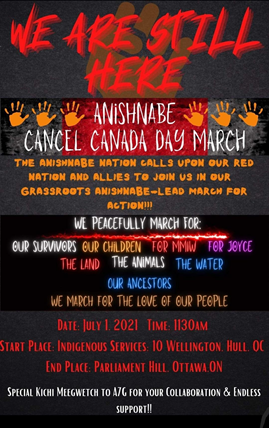 As guests on unceded and unsurrendered Algonquin territory we will be following Anishnabe leadership in regards to #CancelCanadaDay.
"The Anishnabe nations calls upon our red nation and allies to join us in our grassroots Anishnabe-led March for Action!"
Everyone is welcome. Rain or shine. Dress-code will be Orange, anti-colonial merch, your beautiful Indigenous selves.

WHEN: July 1st, 11:30AM
START: Indigenous Services, 10 Wellington, QC
END: @ Parliament Hill
BRING: drums, banners, noisemakers. Prepare for walking and the weather.
Please adhere to COVID-19 precautions.

"We will not celebrate the ongoing genocide within Canada against Indigenous people. Instead we will gather to honour all of the lives lost to the Canadian state, including the many lives lost to residential schools. We will use our voices to support MMIWG2S, and to end land extraction and devastation, child welfare, birth alerts, forced sterilization, Police/RCMP brutality and all of the injustices that the settler-state has normalized on these lands."
Message by Lisa Howell
Part-time Professor & PhD Candidate, UOttawa Faculty of Education
Teacher, Online Learning Academy, Western Quebec School Board
https://www.lisahowell.ca/